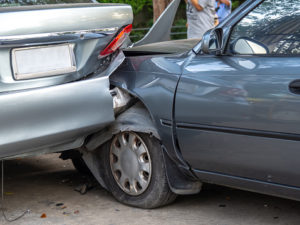 Drivers are expected to maintain a safe following distance between their own car and the vehicle in front of their vehicle. Motorists also have to pay attention to what the car in front is doing in order to avoid rear-end car accidents. Unfortunately, sometimes motorists fail to obey safety rules and follow best practices for safety. Rear-end crashes can happen when drivers in rear-vehicles are negligent or in situations where the driver in the front vehicle stops short or cuts off the car behind him. When rear-end crashes happen, serious injuries including whiplash can result.
Prevention of rear-end collisions is very important, and drivers have to ensure they are following the rules and exercising reasonable care so they don't hit cars in front of them. People aren't perfect, however, so technologies are also being developed which could help to reduce rear-end crashes. The technologies are called front-crash prevention systems and include both systems which issue a warning to drivers when a crash is going to happen as well as systems which actually brake automatically if the car is about to hit an obstacle (like a vehicle in front of it).
Two Technologies Could Help Reduce Rear-End Car Accidents
According to Motor Trend, Insurance Institute for Highway Safety conducted a study on the efficacy of these front crash prevention systems. Researchers looked at police reports on car accidents from 22 different states. Researchers looked at crash rates involving certain vehicle models without crash prevention systems installed and compared the rates of rear-end crashes in these vehicles with similar crash rates of cars with crash avoidance systems in place.  The researchers determined which cars had crash prevention systems in place by looking at the trim kits on the vehicles.
The researchers found far fewer rear-end crashes in situations where technologies either warned the driver or hit the brakes for the driver when approaching an obstacle. When the cars were equipped with automatic emergency braking, the risk of rear end collisions dropped by 40 percent. When the cars were equipped with forward collision warnings to alert the drivers a crash was imminent, rear-end crash rates declined by 23 percent.
Accidents were both less likely to occur and also less likely to be injurious when they did happen. The risk of injury was dropped by 42 percent when a car was equipped with auto emergency braking and the risk of injury was dropped by six percent when the car was equipped with a warning system. When cars had both a warning system and automatic emergency braking, the risk of injury in rear-end crashes was 47 percent lower than in a car with neither technology.
National Highway Traffic Safety Administration (NHTSA) has worked with auto makers and with IIHS and will soon be moving forward with requiring crash avoidance to be included in new vehicles. Hopefully when this technology becomes more common, fewer rear-end crashes will be caused by human error.