Drew Legando, Esq. – Merriman Legal, LLC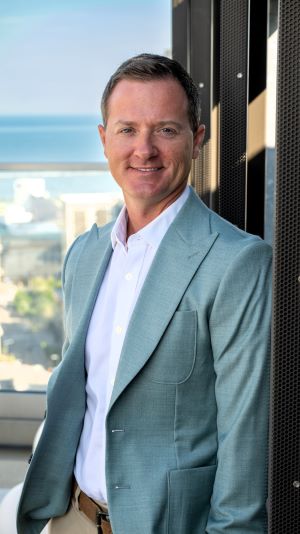 Drew Legando, Esq., is an attorney at Merriman Legal, LLC.
Legando has been recognized as a Rising Star Super Lawyer. He has successfully argued critical issues of law in the State and Federal Trial Courts, Appellate Courts and is regularly before the Ohio Supreme Court protecting the rights of the injured, challenging threats to equal access to justice and fighting for constitutional rights and protections.
Legando is regularly called upon to write and argue positions of law on behalf of the Ohio Association of Justice and for public interest organizations.
Philosophy: There are two ways to police the free market to make sure everyone gets a fair shake. One is to have a big, powerful sheriff in the form of the federal government – lots of oversight, tons of regulations, too much government. The other is to deputize individuals, small businesses, and their lawyers to help the market police itself through private suits in courts. The second way is much better. The big government solution imposes the costs of regulation on everyone – the good businesses and the bad ones, those following the rules and those who aren't, those who make safe products and those who don't. But the people-oriented solution is only costly for those who break the rules, cut corners, game the system, and get caught – they have to be responsible for their own conduct and only they have to pay for the harm they cause to the rest of the system. Good companies save costs because they don't have to hire lawyers to defend them or pay verdicts entered by judges and juries – this gives good businesses a competitive edge. This approach rewards good players and holds bad ones accountable. I joined the firm to promote a private-responsibility, people-oriented solution to the faults of the market.
Bar Admissions
Ohio Supreme Court and the Courts of the State of Ohio, 2008
Federal District Court for the Northern District of Ohio, 2008
Federal District Court for the Southern District of Ohio, 2010
United States Court of Appeals for the Sixth Circuit, 2011
Federal District Court of the District of Colorado, 2013
Professional Experience
Attorney, Merriman Legal, LLC, 2019 – Present
Attorney, Landskroner Grieco Merriman, LLC, until 2019
Civil litigation and appeals: class actions, collective actions, and complex litigation; personal injury; school law; and small business representation.
Law Clerk, 2008
Extern, U.S. District Court for the Northern District of Ohio, Hon. Ann Aldrich, 2007
Intern, Legal Department, Firelands Regional Medical Center, 2006
Education
Graduate of Huron High School, Ohio, 2001
B.A., The George Washington University, Elliott School of International Affairs, 2005
J.D., Cleveland-Marshall College of Law, 2008
Professional Recognition, Membership & Presentations
Ohio Super Lawyers (Rising Star 2013, 2014, 2015)
Ohio Association for Justice
Consumer Law Update Presentation (November 2014)
Amicus Committee (2012-Present)
Political Action Committee (2012-2013)
Ab Initio (New Lawyers) Section Regional Representative, Cleveland (2012)
Cleveland Academy of Trial Attorneys (2008-Present)
Public Justice (2008-Present)
Notable Appellate Work
World Harvest Church v. Grange Mutual Insurance Casualty Company, Ohio Supreme Court, Case No. 2014-1161, Amicus Curiae Counsel for the Ohio Association for Justice
Sallee v. Watts, Ohio Supreme Court, Case No. 2014-0727, Amicus Curiae Counsel for the Ohio Association for Justice
Matt v. Ravioli, Inc., Ohio Eighth District Court of Appeals, Case No. 2013-100553, Lead Appellate Counsel
Watkins v. Department of Youth Services, Ohio Supreme Court, Case No. 2013-0824, Amicus Curiae Counsel
Riscatti v. Cuyahoga County, Ohio Supreme Court, Case No. 2012-1307, Lead Appellate Counsel
Holbrook v. Louisiana-Pacific Corp., Sixth Circuit Court of Appeals Case No. 2012-4166, Lead Appellate Counsel
Stefan v. Olson, Sixth Circuit Court of Appeals Case No. 2011-3775, Lead Appellate Counsel
Burlingame v. City of Canton and Anderson v. City of Massillon, Ohio Supreme Court Case No. 2011-0742, Amicus Curiae Counsel for the Ohio Association for Justice
Notable Class Work
Greenwald v. AmTrust Financial Corp., settlement recovered funds for homeowners whose home equity lines of credit had been suspended by their lender
Eubanks v. Panther II Transportation, Inc., $2.5 million settlement. U.S. District Court Northern District of Ohio Case No. 1:11-cv-0275. Recovered funds for trucking owner-operators who had not been paid for fuel surcharges. Class action for violation of the Federal Truth in Leasing Act and Breach of Contract.